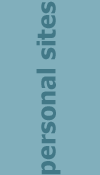 ITC can help with the fun stuff too!

Family and friends can sometimes be scattered throughout the state, country or even the world! Bring everyone closer by creating your own personal or family website. Or create a site highlighting a special event, a family reunion or your child's sports team or dance troupe. Help keep an alumni group connected. Post newsletters, pictures, events, invitations, videos, create an online scrapbook ... anything that will bring you all to the same place to share exciting information.

Connecting ... that's what the World Wide Web is all about!